Mouse Field Wetalnd Restoration Project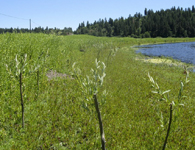 The mouse field is adjacent to Klamath Lake and protected from the lake by a dike. It was originally drained periodically for agriculture, resulting in degraded hydrology and dominance of non-native pasture grasses. The field was flooded and re-contoured to include islands for wildlife, and native willows were harvested for planting along the edges of the wetland and along the edges of the islands.
Rabe Consulting harvested and planted 1,500 native willows (three different species) throughout the field. Planting was accomplished during the beginning of the first growing season after construction. We rooted the cuttings before planting to increase the odds of success, and had to utilize canoes to get to the various islands in the wetland.
We began monitoring the success of the willow planting during the first month, and did so monthly during the first growing season. The first year we established 12 photo points to monitor the success of the mitigation by looking at vegetation and hydrology. Four years after construction, the mitigation has been a complete success, some of the willows we planted are now over 10 feet tall.